The Inevitable Trend Of The Hammer Crusher Is To Improve Innovation
Time:2017-03-03 11:21    Author:clirik
In the context of economic development,low carbon and environmental protection become an important direction of concern,Broken industry is the same.As one of the most widely are used for
crushing equipment which is
hammer crusher
.How to improve innovation,and adapt to the current economic situation?Clirik manufacturers as a crusher, hammer crusher has been carried out on the technical update in the development and production,to the direction of energy conservation and environmental protection to develop products to produce better crushing equipment.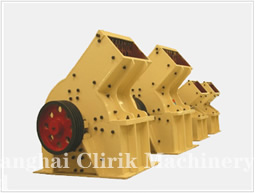 For the Clirik broken production line,as long as the physical properties of the broken ore used to suit, choose this type of crusher is the most economical.Because it is less investment, management, operation and maintenance which are very convenient, also to improve the intensity of labor.
As a senior manufacturer,Clirik are willing to work hard and innovate,so that made in China went to the international market.For the hammer crusher more information, you can understand that the field of my company's hammer crusher use. You can contact us:008613917147829,or please leave your e-mail. We will send more information to you!