What is the advantage of hammer crusher?
Time:2017-06-11 09:37    Author:clirik
Hammer crusher is composed of box, the rotor, hammer, counterattack liner, sieve.Hammer crusher has the advantage of large proportion of crushing, high production capacity, product uniformity, low energy consumption per unit of product, simple structure, light quality equipment, easy operation and maintenance.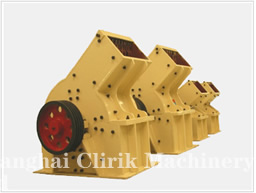 Shanghai clirik production business Tips:
Just tries to run before using the hammer crusher. Prove that the machine and the transmission part are normal, can start.If you find that there is an abnormal situation after the start, you should stop the start.Must be identified and eliminate the abnormal situation, next, you can start the
hammer crusher
again.
In the hammer crusher work process, the hammer is essential, a good hammer can extend the hammer crusher life, improve work efficiency.Of course, hammer crusher hammer quality is also very important, current hammer material has manganese steel, high chromium material, alloy material etc..
Shanghai clirik
hammer crusher
,and more stone crusher's price Consultation address:
No.19, Fuqing Road, Hengqing, Pudong New District, Shanghai, China
Or contact our online customer service for more quotes.Thank you.