Sand Maker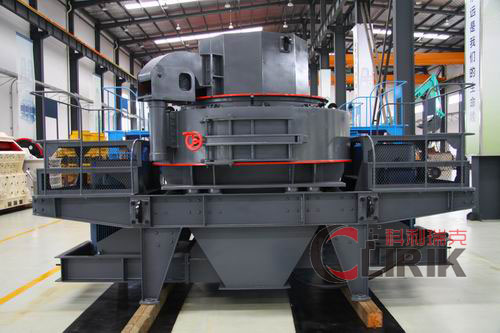 Sand maker also is called sand making machine, Sand making machinery,Sand crusher,Sand making plant,sand production line,Sand Making Equipment and so on. Sand maker mainly used for manufacturing artificial sand and stone materials and it is an important sand making plant. Due to the faster and faster social development, natural sand cannot satisfy the production requirement any longer, and more and more sand needs to be produced with sand making machinery.
Sand maker
is not only suitable for producing sand and stone materials, but for crushing cement, refractory material, glass and slag so that it has very wide application range.
VSI sand maker is a new type sand making machine manufactured by Shanghai CLirik Machinery according to the market demand. Compared with traditional sand maker, it can save more energy, have higher anti-pressure strength and higher processing efficiency and the final products are even in granularity. It adopts hydraulic device so that it is easier to realize automatic production.
The Features & benefits of Sand maker
1)Large capacity, high output
2)Low consumption of wear parts
3)Excellent product shape
4)Hydraulic device, easy to maintain
5)Easy to install, easy to operate
6)Automatic detection, safe and reliable
7)A multifunctional, flexible
8)Lubrication, automatic maintenance
9)International Quality Assurance
Main parts of VSI Sand maker
VSI Sand making machine has 7 main components such as the feed, whirl crushing chamber, impeller experience, spindle assembly, chassis, transmission and electrical machine. Because artificial sand has more advantages than natural sand, Artificial sand maker is used and welcomed in sand making production line.
Working principle of VSI Sand maker
1. Center Feeding: Raw material falls down into feed hopper, and then enters impellor through central entrance hole. It is accelerated in high-speed impellor, and then is thrown out at speed of 60-75m/s. When hitting impact plate, it is crushed. Final products come downwards though outlet.
2. Ring Feeding: Raw material falls down into feed hopper, and then through ring, it is divided into two parts by material-dividing plate. One enters into impellor through the center of material-dividing plate. The other falls down from outside of material-dividing plate. Material thrown out by impellor at speed of 60-75m/s hits material coming down from outside of material-dividing plate. In this way, material is crushed.
Technical parameters of Sand Maker
Model

Feed at center&sides

Feed at center

Soft Material

Hard Material

REV (r/min)

Power (kw)

Motor Model

Machine Size (mm)

Capacity (t/h)

Max.Feeding (mm)

VSI7611

120-180

60-90

35

30

1700-1890

4-55×2

Y250M-4/55

4100×2250×2258

VSI8518

200-260

100-130

40

35

1520-1690

4-90×2

Y280M-4/90

4140×2280×2425

VSI9526

300-380

150-190

45

40

1360-1510

4-132×2

Y315M-4/132

4560×2450×2780

VSI1140

450-520

225-260

50

45

1180-1310

4-200×2

Y315L2-4/200

5100×2690×3200

Note: If you're interested in the product, please submit your requirements and contacts and then we will contact you in two days. We promise that all your informations won't be leaked to anyone.
Order Online