PFW Impact Crusher
Introduction of PFW Impact Crusher:
Base on the plentiful experience of producing and marketing of impact crusher, Shanghai Clirik R&D institution designed the PFW series impact crusher. It is the newest style impact crusher and has been widely used in many industries, like chemical, metallurgy, road and bridge construction and sand making and so on.
Image of PFW Impact Crusher: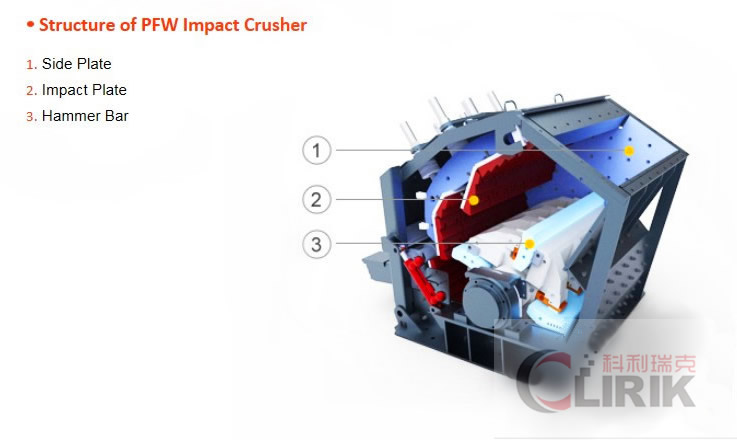 Application of PFW Impact Crusher:
PFW series Impact crusher are mostly used as secondary crusher and it well fits for crushing numerous medium and soft mineral &rock materials, such as limestone, feldspar, calcite, talc, barite, clay, tombarthite, kaolin, gypsum, and graphite, etc.
Features of PFW Impact Crusher:
a, Advanced Manufacture process and high-end fabrication material
b, Heavy rotor design and tight test method improve the rotor performance.
c, Overall type cast steel structure bearing base improves anti load resistance capacity.
d, Hydraulic jacking device and hydraulic regulated discharging port is helpful to save labor and time.
Technical data of PFW Impact Crusher:
*Table 1 (two-crush)
| | | | | | | | |
| --- | --- | --- | --- | --- | --- | --- | --- |
| Model | Rotor Φ×L(mm) | Feed Opening(mm) | Max Feeding(mm) | Capacity(t/h) | Power(kw) | Motor Model | Machine Size(mm) |
| PFW1214II | Ф1150×1400 | 1100×1430 | 500 | 130-200 | 4-132 | Y315M-4/132 | 2400×2310×2550 |
| PFW1315II | Ф1300×1500 | 1200×1530 | 600 | 180-320 | 4-160 | Y315L1-4/160 | 2700×2570×2800 |
| PFW1318II | Ф1300×1800 | 1200×1830 | 700 | 240-400 | 4-200 | Y315L2-4/200 | 2700×2870×2800 |
| PFW1415II | Ф1400×1500 | 1450×1530 | 800 | 240-450 | 4-200 | Y315L2-4/200 | 3000×2700×3070 |
*Table 2 (three-crush)
| | | | | | | | |
| --- | --- | --- | --- | --- | --- | --- | --- |
| Model | Rotor Φ×L(mm) | Feed Opening(mm) | Max Feeding(mm) | Capacity(t/h) | Power(kw) | Motor Model | Machine Size(mm) |
| PFW1214Ⅲ | Ф1150×1400 | 570×1430 | 250 | 90-170 | 4-132 | Y315M-4/132 | 2550×2310×2100 |
| PFW1315Ⅲ | Ф1300×1500 | 625×1530 | 300 | 180-270 | 4-160 | Y315L1-4/160 | 2960×2570×2380 |
| PFW1318Ⅲ | Ф1300×1800 | 625×1830 | 300 | 220-300 | 4-200 | Y315L2-4/200 | 2960×2870×2380 |
| PFW1415Ⅲ | Ф1400×1500 | 800×1530 | 350 | 280-350 | 4-200 | Y315L2-4/200 | 3120×2650×2660 |
Order Online