PE Jaw crusher
PE series Jaw crusher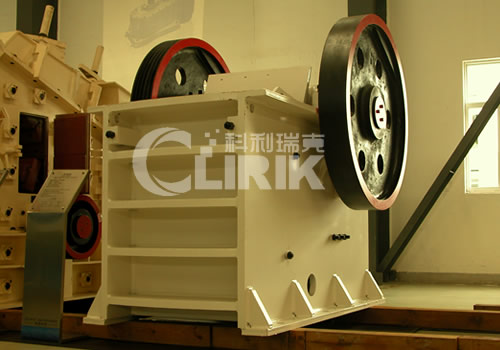 Jaw crusher for sale, Jaw crusher manufacturer, Jaw crusher supplier
Shanghai Clirik Machinery Co., Ltd is a large professional manufacturer of Jaw crusher,The Clirik PC series Jaw crusher have eight models:PE150×250,PE200×350,PE250×400,PE400×600,PE500×750,PE600×900,PEX250×400,PEX250X1200.
Production description of jaw cruhser:
Jaw crusher is mainly used in the industries of metallurgy, mining, chemical, cement, construction, refractory materials and ceramics, suitable to crush hard and soft ores with compressive strength less than 320 MPa. This machine can break material s into medium size and fine size.
Advantage and feature of jaw cruhser:
1. high crushing ratio, uniform particle size,
2. simple structure, reliable performance,
3. easy maintenance and economic operation.
Work principle of Jaw crusher:
Jaw crusher mainly consists of frame, eccentric shaft, jaw plate, connecting bar, adjustment part and spring.
The movable jaw goes upward and downward through eccentric shaft when belt and belt wheel are driven by the motor. The angle between movable jaw and bracket turns big when the movable jaw goes upward, which pushes the movable jaw plate to come closely to fixed jaw plate. At the same time, materials are crushed with the movement of the movable jaw.
When the movable jaw goes downward, the angle between movable jaw and bracket turns small. Under the force of spring and connecting bars, the movable jaw plate leaves fixed jaw plate, and the crushed materials with qualified size are discharged from the crushing cavity. With the continuous rotation of the motor, the movable jaw crushes and discharges materials, which, in turn, realizes the goal of mass production.
Main specification of jaw crusher
Type
FeedOpening Szie(mm)
Feeding Size (mm)
Output
Open Range
(mm)
Capacity (t/h)
Powder
(kw)
Dimension
L*W*H
(mm)
PE150×250
150X250
125
10--40
1--5
5.5--7.5
922×745×933
PE200×350
200X350
125
15--40
5--16
7.5--11
1056*1142*1220
PE250×400
250x400
210
20-60
5--20
15--18.5
1430*1310*1340
PE400×600
400X600
350
40--100
15--60
30-37
1700*1732*1653
PE500×750
500X750
425
50-100
40-100
45-55
2035*1921*2000
PE600×900
600X900
480
65-160
60-140
55-75
2290*2206*2370
PEX250×400
250x400
210
≦12
5--10
15--18.5
1430*1310*1340
PEX250X1200
250X1200
210
25-60
20-60
37-45
2192*1605*1415
Jaw crusher price:
If you want to know the
Jaw crusher
price
or have any questions about
Jaw crusher
, please do not hesitate to contact us.
Phone: 0086-21-20236178
E-mail:
sales@clirik.com
Order Online