VSI Sand Making Machine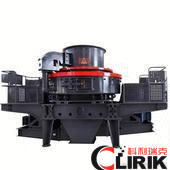 Sand Making machine
is widely used in road construction, real estate development, concrete making etc. With the rapid development of construction industry, the amount of the natural sand failed to keep pace with the various sectors of modern world development needs. So People need other ways to get the sand. It is why Clirik VSI Shaft impact crusher is so welcome.
Shanghai CLIRIK is professional ore crusher equipment, mechanical beneficiation equipment, ore milling equipment manufacturers. Ore mining process, the first belt conveyor, vibrating feeder, conveyor equipment ore sent to the jaw crusher, impact crusher, hydraulic crusher is a crushing raw ore, and the second by a small jaw crusher, hammer crusher ore secondary crushing third screening by vibrating screen meet the standard specifications of the ore is transported to the ball mill, ultrafine mill ore tertiary treatment by magnetic separators, flotation mineral machine elect a variety of needs. Of course, this is just a general ore processing, Shanghai CLIRIK based on your type of ore you mine equipment that best suits you, If you have any questions, we are welcome to contact us or click the
Online Chat
, our technical staff will give you a detailed answer.
VSI Sand Making Machine Introduction
The VSI Sand Making Machine of CLIRIK is a newly equipment with international advanced level, it is both a stone crushing machine and shaper machine. VSI Crusher is called Sand Making Machine, also called Shaper Machine and Sand Making Machine, it dues to its structure and function that integrates two functions into one, it can be used as a crusher or a shaper by changing feeding methods and core structure of the crushing cavity. Thus, if you own the VSI Sand Making Machine, you have a crusher and a shaper in the same time. However, it's the ideal artificial sand making machine.
VSI Sand Making Machine Application
VSI Vertical Shaft Impact Crusher is the new year of crushing field; it's widely applied in hydropower station construction, expressway and railway building, concrete batching plant, bridge and tunnel building. It has two functions of the VSI Sand Making Machine: crushing and shaping. Almost all of minerals can be crushed, contains the hardest minerals, such as metal and non-metal ores, cement, artificial sand, refractory material, bauxite, silicon carbide, glass material, building materials, etc.
VSI Sand Making Machine Advantage
1. Little dust pollution and litter noise.
2. High efficiency and low consumption.
3. More most hard materials can be crushed.
4. Final product of cubical shape and low cost.
5. Wear resistant materials used in special structure.
6. Strengthen structure and tenacity with rivet hot technique.
7. High performance, convenient maintenance and installation.
8. Advanced light oil lubrication system ensures shaft bearing lower temperature.
VSI Sand Making Machine Main Parts
VSI Sand Making Machine is made up of first stage impact curtain with anvils, impact curtain adjusting rods, second stage impact curtain with anvils, rotor, liner plate, blow bar, wedge lock assembly, discharge opening, third stage impact plate, back-up bar and so on.
One complete sand making plant is always made up of vibrating feeder, jaw crusher, impact crusher, vibrating screen, VSI sand making machine and sand washing machine.
1. Falsework
2. Main Frame Assmebly
3. Central Rotator Part
4. Transmission Motor Part
5. Frame Base Part
6. Main Shaft Assmebly
VSI Sand Making Machine Technical Data
Model
B-VSI7611
B-VSI8518
B-VSI9526
B-VSI1140
Capacity(t/h)
Feed Both at Center and Sides
120-180
200-260
300-380
450-520
Feed At Center
60-90
100-130
150-190
225-260
Max Feed Size(mm)
Soft Material
<35
<40
<45
<50
Hard Material
<30
<35
<40
<45
Rotation Speed(r/min)
1700-1890
1520-1690
1360-1510
1180-1310
Power(KW)
110-150
180-220
264-320
400-440
Overall Dimension l*w*h (mm)
3700×2150×2100
4140×2280×2425
4560×2447×2778
5000×2700×3300
Weight(t)
7.8
10.3
16
25.6
Power Supply
380V,50HZ
380V,50HZ
380V,50HZ
380V,50HZ
Vibrating Sensor
Detect range: 0.1-20mm/s continous and adjustable
Lubrication and Hydraulic Station
Power
2×0.31kw
Safety Assuance
Double oil pumps assure enough oil supply;
Automatic switch off with no oil stream or hydraulic strength;
Lower the temperature with cool water in summer;
Raise the temperature with motor in winter.
Overall Demension l*w*h(mm)
820×520×1270
820×520×1270
Power of Oil Tank Heater
2kw
Note: This specification is just reference; any changes are subject to the VSI Sand Making Machine.
Order Online