HCS Cone Crusher
Introduction of HCS Cone Crusher
HCS series single cylinder cone crusher with hydraulic-driven system is a kind of new type high efficient crushing equipment which is developed by Clirik engineers through over 20 year's effort of design, manufacture, sale, and after-sale service in crushing industries. It is widely used in primary crushing, secondary crushing, tertiary crushing and fine crushing.
Image of HCS Cone Crusher: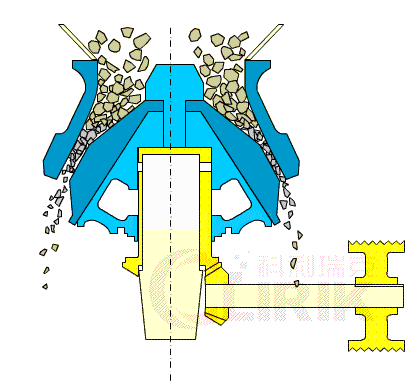 Application of HCS Cone Crusher
HCS series cone crusher is applied to cement mill, mining, building construction, road &bridge construction, railway construction and metallurgy and some other industries. Materials like iron ore, granite, limestone, quartzite, sandstone, cobblestone and some others are easily crushed by cone crusher

Features of HCS Cone Crusher
1. High production capacity and excellent grain type of output product
2. Special bearing design for much more carrying capacity and longer life
3. Enhanced body design makes it quite reliability.
4. Easy to adjust discharging opening and to maintain by using optimized hydraulic lubrication station

Technical data of HCS Cone Crusher
Model
Movable Cone Diameter (mm)
Chamber Style
Max Feeding(mm)
Discharge Opening(mm)
Capacity(t/h)
Power(kw)
Machine Size(mm)
HCS100
790
EC
135
10-32
46-128
90
1550×1575×1965
C
90
10-25
43-118
M
65
8-16
36-76
MF
50
6-13
29-68
F
35
4-10
27-57
EF
28
6
30-40
HCS160
956
EC
180
13-38
69-215
160
1875×1920×2400
C
145
13-32
65-197
MC
115
10-25
60-180
M
90
10-22
60-160
MF
75
8-19
61-125
F
50
6-19
45-105
EF
35
6
70-90
HCS250
1150
EC
215
16-44
110-380
250
2100×2320×2780
C
175
13-38
100-385
MC
140
13-32
95-325
M
110
13-25
115-335
MF
85
10-22
90-280
F
70
8-19
90-235
EF
38
8
100-125
HCS315
1408
EC
275
16-44
177-660
315
2380×2735×3265
CX
245
16-38
170-650
C
215
16-38
170-640
MC
175
16-32
160-552
M
135
16-32
195-500
MF
115
13-32
190-450
F
85
13-25
195-400
EF
65
13-22
210-300
Order Online