PY Series Spring Cone Crusher
Introduction of PY Series Cone Crusher:
Adopting technology from the world, PY Series spring cone crusher has an excellent performance in secondary crushing and tertiary crushing process and it has become the ideal cone crusher for small capacity crushing plants of mineral ore processing industry and rocks processing industry.
Image of PY Series Cone Crusher: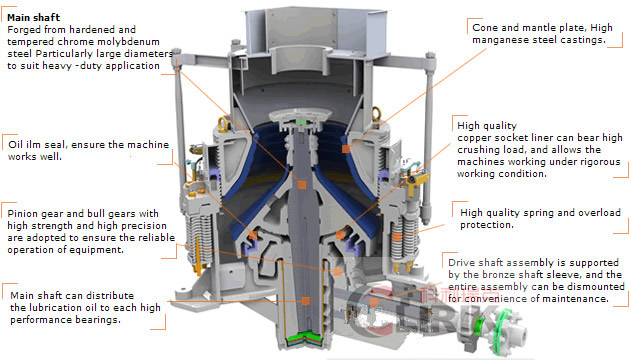 Application of PY Series Cone Crusher:
PY series cone crusher is applied to cement mill, mining, building construction, road &bridge construction, railway construction and metallurgy and some other industries. Materials like iron ore, granite, limestone, quartzite, sandstone, cobblestone and some others are easily crushed by cone crusher.
Features of PY Series Cone Crusher:
1. High productivity; high quality.
2. Less machine stop time.
3. Easy maintenance and low cost.
4. Unique crushing ability in primary, secondary and tertiary crushing.
Technical data of PY Series Cone Crusher:
| Model | Diameter of Bottom End of Conical Crushing Head(mm) | max feeding size | adjustment range of discharge opening | capacity(t/h) | power | Rev. of Eccentric shaft | weight (T) | Overall dimension(mm) |
| --- | --- | --- | --- | --- | --- | --- | --- | --- |
| PYB600 | 600 | 75 | 12-25 | 40 | 30 | 356 | 5 | 2234×1370×1675 |
| PYZ600 | 600 | 35 | 3-13 | 5-23 | 30 | 356 | 5.3 | 2234×137×1675 |
| PYB900 | 900 | 115 | 15-50 | 50-90 | 55 | 333 | 11.2 | 2692×164×2350 |
| PYZ900 | 900 | 60 | 5-20 | 20-65 | 55 | 333 | 11.2 | 2692×164×2350 |
| PYD900 | 900 | 50 | 3-13 | 15-50 | 55 | 333 | 11.3 | 2692×164×2350 |
| PYB1200 | 1200 | 145 | 20-50 | 110-168 | 110 | 300 | 24.7 | 2790×1878×2844 |
| PYZ1200 | 1200 | 100 | 8-25 | 42-135 | 110 | 300 | 25 | 2790×1878×2844 |
| PYD1200 | 1200 | 50 | 3-15 | 18-105 | 110 | 300 | 25.3 | 2790×1878×2844 |
| PYB1750 | 1750 | 215 | 25-50 | 280-480 | 160 | 245 | 50.3 | 3910×2894×3809 |
| PYZ1750 | 1750 | 185 | 10-30 | 115-320 | 160 | 245 | 50.3 | 3910×2894×3809 |
| PYD1750 | 1750 | 85 | 5-13 | 75-230 | 160 | 245 | 50.2 | 3910×2894×3809 |
| PYB2200 | 2200 | 300 | 30-60 | 490-750 | 260-280 | 220 | 80 | 4622×3302×4470 |
| PYZ2200 | 2200 | 230 | 10-30 | 200-580 | 260-280 | 220 | 80 | 4622×3302×4470 |
| PYD2200 | 2200 | 100 | 5-15 | 120-340 | 260-280 | 220 | 81.4 | 4622×3302×4470 |
Order Online