Barite Crusher
Barite crusher, belongs to stone crusher, usually applys the jaw crusher to crush the limestone into medium-grained gravel. The jaw crusher is primarily used for crushing various kinds of stones and lump materials into medium-grained gravel. Jaw crusher, which is ideal for the primary and secondary crushing, is widely applied to mining, quarry, metallurgy, building, highway, railway, construction waste processing, water conservancy and chemical industry. It processes various kinds of material with crushing compresion strength not more than 320mp. Our jaw crusher adopts V-shape inlet, resulting in higher crushing efficiency.

Barite crusher, Jaw Crusher Working Principle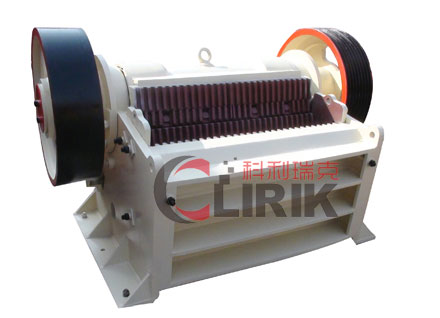 The eccentric shaft rotates under the action of drive device, making the jaw move up and down. The materials are broken into small pieces as a result of the motion of collision, squeezing and rubbing. After this, materials are discharged from the discharge port.

Features of Jaw Crusher, barite crusher

1 Firm structure, stable performance, large capacity, even producing granularity.
2 With the increase of production, our jaw crusher can greatly reduce the operating costs.
3 Convenient maintenance and economical running expense.
4 The large feed opening and force-feeding action from the inward and downward eccentric movement of the swing jaw mean that our jaw crusher can increase the capacity.
Parameter of jaw hammer crusher, barite crusher
Type
FeedOpening Szie(mm)
Feeding Size (mm)
Output
Open Range
(mm)
Capacity
(t/h)
Power
(kw)
Dimension
L*W*H
(mm)
PE150×250
150X250
125
10--40
1--5
5.5--7.5
922×745×933
PE200×350
200X350
125
15--40
5--16
7.5--11
1056*1142*1220
PE250×400
250x400
210
20-60
5--20
15--18.5
1430*1310*1340
PE400×600
400X600
350
40--100
15--60
30-37
1700*1732*1653
PE500×750
500X750
425
50-100
40-100
45-55
2035*1921*2000
PE600×900
600X900
480
65-160
60-140
55-75
2290*2206*2370
PEX250×400
250x400
210
≦12
5--10
15--18.5
1430*1310*1340
PEX250X1200
250X1200
210
25-60
20-60
37-45
2192*1605*1415
| | | | |
| --- | --- | --- | --- |
| Model | PC400x300 | PC600x400 | PC800x600 |
| Rotor diameter /mm | 400 | 600 | 800 |
| Rotor length /mm | 300 | 400 | 600 |
| Rotor speed r/min | 1100 | 1000 | 900 |
| Max. feeding size /mm | <100 | <220 | <350 |
| Ouput size /mm | 5-10 | 5-15 | 5-20 |
| Capacity T/h | 5-13 | 10-20 | 18-30 |
| Motor power /KW | 11 | 18.5 | 45 |
| Number of hammer /piece | 16 | 20 | 28 |
| Weight /T | 0.8 | 1.8 | 2.8 |
| Overall dimension L*W*H/mm | 900*670*860 | 1200*1050*1200 | 2360*1490*1415 |
Order Online